Nigerian Dwarf Goats
Herdsires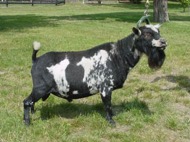 Proverbs 27:26
There are, lambs, for thy clothing, and, for the price of thy field, there are he-goats.

Our herdsires have been chosen for their strength in dairy character, mild temperaments and proven bloodlines needed for enhancing our breeding program for the show ring and milking pail. You will notice that Breed standards for dairy strength and general appearance are evident in the lines we have brought into our herd, or have retained from or breeding program.
Each of our bucks possess excellent conformation that is similar or complimentary to our does. These traits have brought out the best in our kids.
We have put breeding pairs together, that we feel will continue to improve our lines and also the Nigerian Dwarf Goat breed. Each year we are excited about the genetics we have decided for our breedist.
Visit All Our Featured Services