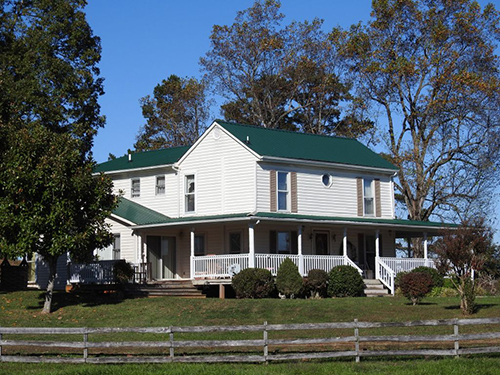 CornerStone Farm Bed and Breakfast
Welcome to CornerStone Farm, Virginia's unique farm-stay destination bed & breakfast, located in Virginia's southside farm country. Just minutes away from Buggs Island/Kerr Lake – Lake Country. No matter what your travel/vacation needs are, CornerStone Farm can provide you with solutions. Adults and children appreciate the relaxed experience and care-free environment as they enjoy all the farm has to offer. We offer overnight lodging, full family vacation fun, a romantic getaway for two, or an opportunity to renew yourself in your time alone.
As your hosts, we consider ourselves caretakers of a safe vacation haven, chosen by you, for the rest and renewal that you deserve. Enjoy your time visiting us on the web and feel free to contact us with any questions you may have. Our doors and hearts are always open.
Your cares and worries start to fade away as you drive up the lane towards the farm house. Country hospitality starts as soon as you arrive. You will be greeted with a smile and offered refreshments after your travels. Once you are settled in, friendly conversations introducing you to the farm, allows you to feel like you are part of the family. You are here to relax and leave thoughts of schedules behind.
The heart of what CornerStone Farm is all about, is for our guests to enjoy a well-deserved get away. A time to relax and renew themselves in a safe, peaceful, natural farm setting away from the crowds; where family memories are created and cherished for years.
We have cultivated a feel here, where time seems to have been turned back from the twenty first century, to a simpler, quieter, country way of life. You will experience what it may have been like years ago when friends and strangers were welcomed into homes to share the blessings, richness, and warmth of a family homestead.
There are activities that invigorate you, like hiking our 40 acres of scenic forest, helping with farm chores or for those that appreciate a relaxing break; fishing the farm pond, sitting on the porch sipping tea, or petting the many friendly farm animals is offered. After all the out-of-doors fun, it's time for family meals, togetherness, or time to turn in.

Children and Pets ALWAYS Welcomed!
Farmer Package
Full Farm Experience
Traveler Package
Vacation with us
Holiday Package
Celebrate on the Farm
Mentorship Package
Hands on Farm Guide
Cheese-Making Package
Yes Please
Create Your Own
Farm it your way
Visit All Our Featured Services