Nigerian Dwarf Goats
Kids/Adults for Sale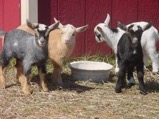 1 Corinthians 9:7
Who plants a vineyard and does not eat the fruit of it?
Or who tends a flock and does not use the milk of the flock?

Our Pledge:
Since 1997, our kids are the result of selective hand breeding of registered, 100% Nigerian Dwarf Goat stock. Much thought and care are placed on pairs we choose for sire and dam to maintain the breed as a true miniature working dairy goat; having the conformation and type, of the purebred working Nigerian Dwarf Goat. We back our pedigrees to be only bred from reputable stock and from registered Nigerian Dwarf Goats. When adding new lines to our herd, they are chosen only from top respected lines in Nigerian Dwarf registries to create the CornerStone herd.
Our kids are dam raised because we strongly believe in the natural nurturing approach of raising goats. We have seen where dam raised kids are healthier – physically, mentally, and emotionally – when raised affectionately 24 hours a day by their true "mums". Time is spent with our kids to socialize them to make them people friendly.
Thank You from CornerStone Farm
We want to express our gratitude for your interest in CornerStone Farm Nigerian Dwarf Dairy Goats and whether you purchase from us now or in the future, we appreciate every inquiry and trust we have given you the best service possible in providing you the information needed to make an educated purchase.
Visit All Our Featured Services