Nigerian Dwarf Goats
Doe Herd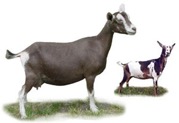 Proverbs 27:27
You will have plenty of goat's milk to feed you and your family and to nourish your servant girls.

Our does are working milking dairy goats, and are selected to enhance the qualities we desire in our breeding program. They have been chosen for correctness in dairy strength and general appearance standards – udder capacity and overall mammary structure, width throughout, levelness, length of body, placement of legs and feet, body capacity, depth, overall size and finally color.
Our breedings bring together dams and sires whose characteristics will continue to improve our lines and also the breed. We are excited with every year's choices as we may add new lines to our herd or bring pairs together that have not been crossed before.
We provide them with the best of shelters and quality feed, year-round. It is not unheard of to find one in the house as the need arises or sitting in our laps as we rest from our chores in the pasture.
Visit All Our Featured Services