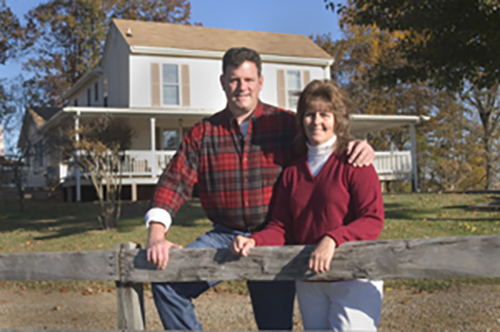 The Innkeepers
    Let all that you do be done in love.
Ward and Barb Halligan lived in New Jersey and worked at AT&T-Bell Labs. They realized it was time for a change and pursued their dream of living in the country; giving up corporate life to move to a slower pace of life in Virginia. They benefited greatly from their graphic arts education and managerial background to help transform a simple country farm into what is now Cherith Hall and CornerStone Farm today.
The Halligans purchased CornerStone Farm in 2001 and since that time, they have made many significant restorations to the property while maintaining its natural beauty and its agricultural heritage.
Both the Inn and Cherith Hall sit on hills overlooking pastures and features a one-acre pond east of the house. Agriculturally, this land has been farmed for over 100 years. It continues today as a breeding farm of rare and exhibition quality livestock.
The tranquil farm setting provides the perfect backdrop for rustic country events or getaways – whether your style is best expressed by being alone with nature or with a group of mutual friends. Situated on 92 picturesque acres, in a pastoral setting, surrounded by natural landscaping and forests, they have transformed the farm into a tradition of:
* Peace and tranquility
* Unconditional hospitality
* Fine food, and
* Comfortable Bed & Breakfast accommodations.
Cherith Hall is particularly appropriate for small intimate events and celebrations, up to 100 guests. However, larger events can be accommodated, up to 200 guests, on the extensive lawn.
Call now to schedule a tour, or to talk through your special event needs – 434-735-0527
Visit All Our Featured Services